23 Mar 2018
Core-apps Named Mobile App Supplier for ECEF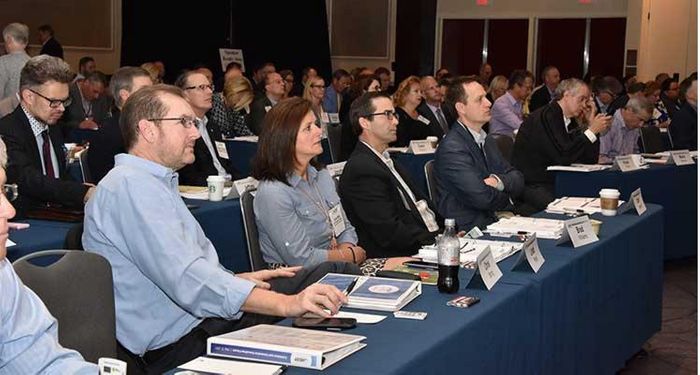 Core-apps, a leading provider of event technology for the tradeshow and events industry, has been tapped to provide the mobile app for The Exhibition and Convention Executives Forum, to be held May 30 at the JW Marriott in Washington, D.C.
"When exhibition and convention executives convene at ECEF this year, they will be impressed with the robust mobile app provided by Core-apps," says Sam Lippman, president of Lippman Connects, producer of the ECEF. Clients and attendees will appreciate mobile access to the full attendee list, session and speaker details, sponsor list and descriptions, map of ECEF layout at JW Marriott, and information on the new hands-on TechDemo & networking reception.
"We are very pleased to welcome Core-apps as a new sponsor," Lippman continues. "The more we learned about their platform, the more convinced we were that Core-apps would be the ideal mobile app supplier to ECEF 2018."
Wayne Crawford, vice president of sales at Core-apps, adds, "We have long admired the Lippman Connects portfolio of events and their place in the events and exhibition space. As Core-apps continues to expand our relationships, it is only natural for us to join forces with this industry-leading organization for this fantastic conference. We look forward to supporting the ECEF event app for this year's conference, and to showcasing our world-class features to our industry colleagues."
Lippman Connects produces events for exhibition and convention industry professionals. Each event—Exhibition & Convention Executives Forum, Attendee Acquisition Roundtable, Exhibit Sales Roundtable and Large Show Roundtable—provides attendees the opportunity to network, discuss challenges, share best practices, and explore proprietary industry data. For more info, visit www.lippmanconnects.com or lippmanconnects.com/ecef.
Core-apps is a leading provider of event technology for the tradeshow and events industry. The company supports more than 50 percent of the Top 250 Trade Shows and is the only event technology platform offering Event Management, Mobile Apps, Beacons and Kiosks as four Tier-One solutions. Founded in 2009, the company is headquartered in Arnold, Maryland, and serves customers around the globe. For more info, visit www.core-apps.com.