17 Jun 2021
EVENTS INDUSTRY SOUNDS THE ALARM OVER SLUGGISH BUSINESS TRAVEL
EVENTS INDUSTRY SOUNDS THE ALARM OVER SLUGGISH BUSINESS TRAVEL
June 17, 2021
Business travel appears to be still stuck in quarantine as Americans begin returning to pre-pandemic levels for vacations and road trips. If this trend continues, meetings and events may not see a full recovery from COVID-19 until 2023 or 2024.
Trying to jumpstart a sluggish re-awakening, the U.S. Travel Association issued bleak warnings about the impact that weakened business travel could have on the whole country. As part of the "Let's Meet There" campaign, USTA has partnered with Ohio State University to develop what they hope to be universal standards for meeting safely.
The lack of consistency between industries, continents, regions and states threaten to prolong struggles despite the apparent desire to return to face-to-face gatherings, according to USTA President and CEO Roger Dow.
"It's time to get back to business," Dow said. "Nothing happens in America — or in the world — until someone gets together."
Added Hilton CEO and President Chris Nassetta: "To get teams back to work and to get back to full employment in the industry, we need business travel, particularly professional meetings and events, to restart."
The disconnect is that while the numbers show there is an underlying desire to meet, results are not meeting that demand. The following stats sum up the incongruous situation that threatens to prevent a full recovery for business travel until 2024:
Business travel spending is down 69% and spending related to meetings, conferences and events declined even further—down 76%;
Only 35% of U.S. businesses are currently engaging in any business-related travel;
65% of all U.S. jobs lost in 2020 were supported by travel, and they cannot fully recover without a swift return of all segments of travel, particularly in-person professional meetings and events, according to analysis from Tourism Economics.
Polling indicates that 85% of American workers view in-person events as "irreplaceable;"
81% who attended work-related events before the pandemic miss doing so and are likely to attend such events in the future.
How to Reopen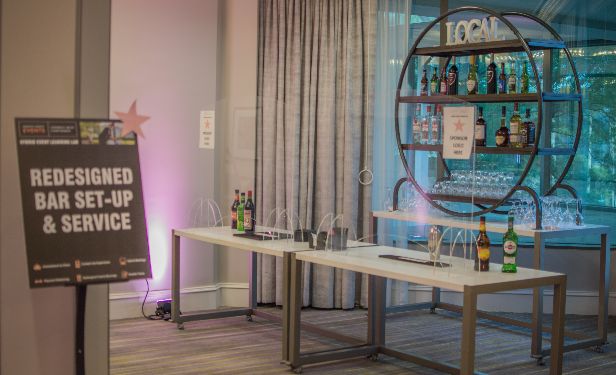 Count Dr. Bernadette Melnyk, vice president for health promotion, university chief wellness officer and dean of the College of Nursing at The Ohio State University, among those who believe in the power of face-to-face gatherings.
"I understand how important it is for meetings to share evidence-based practices and how they serve as a great connector for people," Melnyk said.
A frequent conference presenter and attendee, Melnyk co-authored recommendations to meet safely. As one might expect, she stressed sticking to the science to find common ground for how event organizers and meeting planners can operate.
Highlights of the suggested ways to safely meet include:
Requiring masks for all unvaccinated individuals; and encouraging covering facial coverings for vaccinated attendees;
Maintaining a six-foot distancing policy coupled with mask use if not all attendees are vaccinated. If meetings and events require proof of vaccination, attendees would not need to physically distance themselves.
Consider pre-packaged meals with low-touch distribution methods.
Ensure ventilation systems do not exceed allowable airflow rate standards; follow CDC recommendations on disinfecting and cleaning surfaces and encourage good hand hygiene (i.e. washing hands for 20 seconds).
Promote individual healthy lifestyle behaviors that can boost the immune system's protection against infection.
"We now know enough about COVID-19 and we are far enough along here in the U.S. with vaccinations that a layered approach can work and you can do it safely," Nassetta said.
Early in the pandemic, Hilton partnered with Mayo Clinic and RB/Lyson to set new standards of cleanliness to reassure guests it is safe to stay in its properties. Likewise, it added a hybrid program to complement the measure.
Similarly, Marriott initiated its Commitment to Clean standards across its properties. Furthermore, the world's largest hotel company has hosted more than 3,000 event professionals since February to experience Hybrid Event Learning Labs. These sessions, held at hotels across the country, were designed to demonstrate – in person – how meeting professionals can plan and execute a successful hybrid meeting.
The labs offered guidance for, among other things, on-site rapid testing, new F&B procedures and creative and socially distanced seating arrangements.
"All of these offerings provide meeting professionals with choices to personalize their event to enhance the wellness aspect and comfort level of their meeting attendees," said Tammy Routh, senior vice president of Marriott's Global Sales Organization.
Healthy Debate
Many of the Ohio State-USTA recommendations are being implemented already. F&B, for instance, will be visibly different for some time and many venues — including all Hyatt hotels — have achieved GBAC Star accreditation to demonstrate a renewed focus on cleaning. It may very well be that such measures, like removing shoes at airports after 9/11, will become part of the consistency that Dow is urging.
But mask mandates, social distancing and other protocols involving individuals' behavior have become a new freedom-of-choice debate. Two prominent medical meetings are requiring all in-person attendees be vaccinated, but the bulk of events seem to be settling on rules calling for unvaccinated individuals to wear masks while those who have had their shots can forgo the facial coverings.
The country raced to more than 50% of adults receiving their vaccines, but it's been a slog to reach the 60-70% threshold President Biden urged by July 4. Even in a best-case scenario, a large percentage of Americans will not be vaccinated, a reason that USTA is against mandating proof of immunity to attend events in-person.
"You can't cut out 30% of the market," Dow said.
It appears that different organizers will follow different procedures to limit risks while the "Delta" variant gains prevalence in this country. Sam Lippman, president and founder of Lippman Connects and who has more than 35 years of hands-on experience producing exhibitions and conventions, said he was among a handful of attendees wearing a mask at World of Concrete, which took place June 8-10 in Las Vegas.
Some of the 12,000 attendees at Bitcoin's conference in Miami in June tested positive for COVID after attendees were not required to wear masks or show proof of vaccination.
Such outbreaks are why Kevin White, content strategist and instructor at The Event Leadership Institute, is a proponent of using health passes, aka digital passports, as one measure of protection at shows. He said the events industry can't simply go back to the way things one were.
"There are some people who are just frozen in time to wait this out and go right back to what they were doing [before]," he said. "That's criminal. Did we not learn anything?"
While health passes remain a divisive issue and Florida has banned them, White said they make too much sense to not eventually gain widespread adoption. He predicted that business sense and capitalism will be the driving force rather than the desire to assist the common good.
"There's an inevitability," White said. "They've always existed, except it was in our elementary school's secretary's office in an index card file, checking off boxes for the measles and chickenpox."
Emily Hartstone, vice president of Magellan Management in Delray Beach, Florida, successfully planned an association's 230-person meeting this spring in Naples, Florida, without a positive COVID-19 test. She recommends Tapple for health screenings as an initial step, and distributing bracelets each day as clearance to ensure attendees don't bypass checkpoints.
"I wouldn't do it any other way," said Hartstone, who is also co-owner of PromoGuard, which uses XTI-360 anti-micorbrial coating on goods and apparel. "Nobody had a problem [with our protocols]," she said.
Facing the Facts
On June 22, the American Hotel & Lodging Association is scheduled to issue a similar call to action during a press conference held in conjunction with the Florida Restaurant & Lodging Association, Orlando Mayor Buddy Dyer and State Senator Jason Brodeur (R-Sanford).
In Orlando, group travel as of June remains 67% lower than 2019 levels, according to a study by Visit Orlando. And despite hosting more events than most of its counterparts, Orange County Convention Center reported 134 canceled or rescheduled events, estimating the economic impact to the region to be nearly $3 billion in lost revenue, according to The Orlando Sentinel.
The damage from sluggish business travel will be palpable, said Adam Sachs, president of Tourism Economics.
"A third of all jobs that remain lost in the U.S. are in the leisure and hospitality industry," Sachs said. "The only way we will get the jobs market fully back is get the travel industry fully back."
Already, the disparity between regions is noticeable. Much to Dow's chagrin, several states still have crowd limits — which Dow calls "unnecessary" at this point — that add to the confusion and difficulties of planning business events, big and small.
The quick return to form for leisure travel bodes well for beach destinations and resorts, but is not benefitting urban hubs reliant on professional events, Sachs noted.
"We're going to have winners and losers," he said. "It's really going to be our nation's cities that suffer the most for longer than it takes for the meetings, industry and the business travel sector to recover."
Hilton's Nassetta knows both sides of the equation. While Hilton is projecting record summer leisure bookings, it has yet to reopen hotels in New York City and other major markets. Yet he remains hopeful that organizations won't settle for digital meetings.
Anecdotal evidence Nassetta has been collecting suggests that while executives value the convenience costs of virtual meetings, they understand there's no replacing face-to-face events.
"I'm talking to a lot of other CEOs across a broad range of industries and I think most, if not all, are realizing they've reached the limits of what they can do virtually," he said.
Routh said that Marriott is also urging groups to do as much in-person together as possible, leaving the digital component as a backup.
"We are hearing from our clients that they are eager to get back on the road," she said. "At the core of business travel and meetings is building relationships and engagemen ... for this, nothing replaces face-to-face. For those meetings that will be hybrid, we look forward to continuing to help our customers drive the maximum attendance for the face-to-face component, while partnering to make those who can only attend virtually have a wonderful experience as well."