06 Jun 2019
How ECEF 2019 Used Artificial Intelligence for Customer Support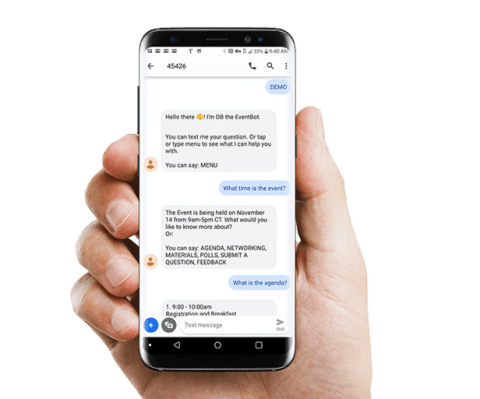 At the 2019 Exhibition and Convention Executives Forum, which took place May 29 in Washington, D.C., 220 association and for-profit industry executives not only had the chance to take advantage of information-sharing sessions and networking opportunities, but also got hands-on access to some revolutionary customer service technology.
Available 24/7 worldwide to answer any ECEF-related questions via SMS text, Sciensio's Artificial Intelligence-driven EventBot went live on May 21 and provided attendees and exhibitors with 260 hours of real-time support before and during the event.
"ECEF clients first heard about AI EventBot technology during last year's program, and it generated a tidal wave of interest," said Sam Lippman, president of Lippman Connects, producer of ECEF.
He continued, "We made the ECEF 2019 EventBot available in SMS because every attendee has that. We also made it available in the mobile app for additional functionality. The net result was that attendees were able to access this technology where and when they wanted it."
Among the wide range of topics that the bot — dubbed Eve N.T. — addressed included speakers and program; special needs; menus and dietary needs; attire; bag check; location and directions; event FAQs; parking; restrooms; sponsors; transportation options; weather and Wi-Fi. To initiate a conversation with Eve N.T., users simply texted ECEF to 25525.
According to Robert Caldwell, founding partner and CRO of Sciensio, creators of EventBot, the results at ECEF were in line with what they see across the industry. Just over 67 percent of those who provided mobile numbers interacted with the bot, asking more than four questions each. In addition, the bot scored an impressive 96 percent Correct Response rate.
"ECEF is once again on the leading edge of event tech," said Caldwell prior to the event. "We are excited to show the executive clientele how true AI bots like Eve N.T. elevate the event experience, reduce costs and drive community (and revenue) in a way that is impossible to achieve without an EventBot."
Bot user feedback was so positive that ECEF is already planning to work with Sciensio when it returns to D.C. on May 27, 2020.