14 Jun 2018
Leadership, vision and tech shared ECEF spotlight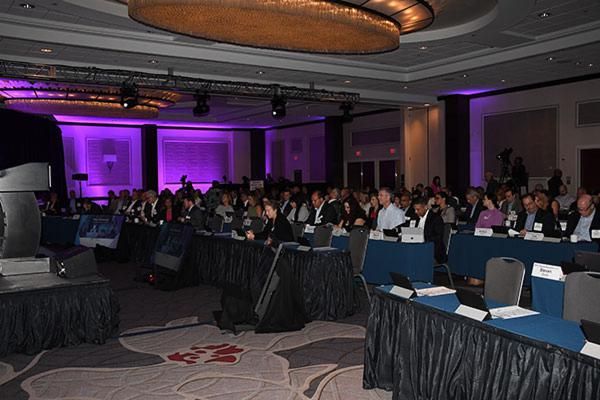 EW attended the recently held Exhibition and Convention Executives Forum or ECEF, which took place in Washington, DC on 30 May 2018.
ECEF showcased 10 speakers, seven sessions, two keynotes, two receptions and 10 technology demos. Addressing the rapidly-changing information needs of event organisers, this year's Exhibition and Convention Executives Forum (ECEF) unveiled new benefits and features that attracted 221 industry leaders.
John Barrett, executive director, ISSA ­— The Worldwide Cleaning Industry Association, delivered the Opening Keynote, detailing the ups and downs of driving rapid expansion while still learning the events industry. "John's learning experiences and ultimate success reminded us that strong, yet flexible leadership is critical to both associations and independent organizers," said Sam Lippman, president, Lippman Connects. ECEF is produced by Lippman Connects.
The closing keynote was delivered by futurist Mickey McManus, Visiting Research Fellow at Autodesk and senior advisor at Boston Consulting Group (BCG). "Mickey's vision of how attendee interactions will evolve as machine learning algorithms mature should be an essential consideration for organisers planning digital transformations," Lippman added.
For the first time, ECEF offered a networking and technology activity immediately following the closing keynote. The premiere ECEF TechDemo combined with a closing reception gave event leaders the opportunity to test drive 10 real-world technology solutions in a relaxed no-pressure environment.
ECEF's one-day programme also featured presentations by Mark Baum, senior VP & chief collaboration officer, Food Marketing Institute (FMI); Michael Clapperton, chief technology officer, Informa Global Exhibitions; Margaret Core, VP, Marketing & Industry Events, Food Marketing Institute (FMI); Macy Fecto, executive VP, HR & Administration, Access Intelligence; Sam Lippman; Peter J. O'Neil, CEO, ASIS International; Nicole Peck, executive VP, BizBash; and Greg Topalian, CEO, Clarion UX.
ECEF
ECEF 2018
Sarah Picton