02 Jun 2019
TSE's Eight Key Takeaways from ECEF 2019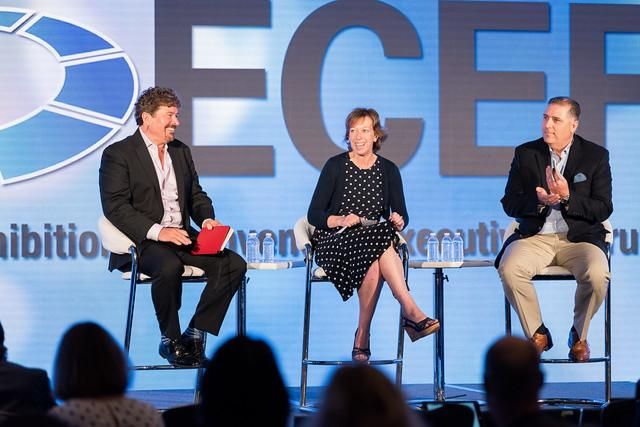 WASHINGTON, DC — Held annually during the week following Memorial Day, this year's Exhibition and Convention Executives Forum (ECEF) attracted more than 200 attendees to the JW Marriott. "The confirmed number of ECEF 2019 verified attendees, sponsors, speakers and media was 220," said Sam Lippman, President, Lippman Connects, producer of ECEF. In 2018, ECEF attracted 222 industry professionals. For the second year, ECEF included a networking and technology activity combined with a closing reception. The ECEF TechDemo featured 12 technology solutions. ECEF offered six educational sessions, and
Trade Show Executive
identified eight key takeaways:
Lead by example. "Nothing attracts competition like success," Marijuana Business Daily Co-Founder and CEO Cassandra Farrington said during the opening keynote titled Navigating Treacherous Waters. She shared how her company navigated the unusual political and business hurdles to lead one of the Trade Show Executive's Fastest 50 growing exhibitions in the U.S. When MJBizCon launched in 2012, the event attracted 400 attendees to a masonic lodge in Denver. In 2018, the show attracted 27,700 attendees and 1,028 exhibitors covering nearly 180,000 net square feet at the Las Vegas Convention Center. While fast growth is good, it can be challenging. In addition to the event, Marijuana Business Daily is a full-fledged B2B media company that offers content through a number of channels, including a print magazine, website, social media, books, apps, TV and more. "Our brand had the first double-decker booth at our show," she said. "We had the hanging sign. We have had to bring along and train our exhibitors and attendees."
China as the next big exhibition investor? At the session titled The Other 75% of the World's Market, UFI Managing Director/CEO Kai Hattendorf talked about how the world's conventions and exhibitions are evolving — and what impact this has on business in the U.S. He asked: "Will the world economy flip?" In 2019, the U.S. is the world's largest economy with an annual GDP of $19.4 trillion, representing 24% of global GDP. By 2030, some are predicting that China will be No. 1 in world with $64.2 trillion in GDP. "China made its first exhibition investment earlier this year in the Thailand International Dog Show," Hattendorf said. "We will see more of China investing in shows around the globe."
Become a haven for trust. "Globally, our trust in public institutions has shifted," Dina Cappiello, Editorial Director & Group Head, Editorial & Media Strategies, Edelman, D.C. said at the session titled Storytelling in a Fake News World. According to an annual Edelman study, only 40% of the U.S. population trusts the government, and 48% of the U.S. population trusts the media. "People are looking for reliable sources," she said. "Exhibitions can be a haven for trust. Exhibitions can be a great place for storytelling.
Threats to exhibitions and events. At the session titled Power Panel: Brave New World in the Event Business, Rick McConnell, President, North America, Informa Markets asked attendees to submit one or two words about what they see as the biggest threats to exhibitions and events. Among the top responses from the audience: Time, security, budget, relevance, recession, industry consolidation, ROI, internet, competition, travel and lack of technology.
Supporting a cause. "No one wants to talk about profitability, but margins are high," Lippman said. "Are there any conversations about lower profitability down the road?" Look at Tom's shoes and Bombas socks, said McConnell. For each purchase, these companies offer an in-kind donation of their product to those in need. "To connect with millennials and Gen Z, causal marketing has to be got to be embedded in your business model," he said. "If not, you may be missing a big opportunity."
Off the grid. At the same session, Messe Frankfurt President & CEO Dennis Smith said: "Activations and experience for attendees are critical," he said. "Trade shows going off the 10-by-10 grid." For example, Messe Frankfurt recently re-engineered the International Motor Show in South Africa. After acquiring the massive show, the dealer association told the company they didn't want a show anymore, he told the audience. "It's happening in Detroit and Frankfurt and around the globe. Dealers don't want a static, old-school auto school," he said. "We redesigned the event into a B2B/B2C experience and hold it at a race track." The first two days of the show, which is now called the Festival of Motoring, are for press and dealers, and the rest of days are for consumers. "We gained back 28 brands, and a show that was dead has come back to life."
Better together. At the session titled Buy/Sell/Partner 360: The National Restaurant Association (NRA) Show's New Model, Winsight Vice Chairman Galen Poss moderated a panel discussion about the sale and equity partnership between Winsight and the NRA show. "We wanted the association to be a true partner, so we agreed to equity partnership early on," said Winsight CEO Mike Wood. The deal, which took three years to complete, has a unique structure — to say the least. NRA owns an equity stake in Winsight and serves on the company board as a non-voting member. In return, NRA has agreed to sponsor the show for 45 years. In the end, the NRA board voted unanimously to approve the deal. "This association deal is significant, and I think it sets the stage for the future," Poss said. With 62% of shows owned by associations, he said more non-profits may look to independents to help them with expand with digital and data enhancements that they couldn't do on their own. "We needed to act like media company to keep pace," said Mary Pat Heftman, President, Restaurant Show Group, Winsight "At times, I felt like a trader to the association, but in the long term it is what's best for the next generation. I believe it even more firmly now that we have completed our first show together. We grew all metrics. That speaks volumes about the culture of association and Winsight." For the recent NRA Show in May, Heftman said sponsorship was up 29%, and the show celebrated its 100th anniversary with 65,000 attendees from 110 countries and 2,300 exhibitors.
Small is in. At the session titled How to Be a Ninja Innovator, Consumer Technology Association (CTA) President and CEO Gary Shapiro talked about a wide variety of topics related to trade shows and innovation. Using audience-polling technology, Shapiro allowed ECEF attendees to select the three topics he would address. The topics included: finding/retaining a ninja staff, keeping a mega show relevant and efficient, and the future of digital/connected health. "Small is in," he said. "It's difficult to innovate in big companies. Big companies will fund bad decisions for a long time." More big companies are looking at acquiring, partnering, mentoring and being the first customers of smaller players, he said.
In 2020, ECEF will be held on May 27 at the JW Marriott. Reach Sam Lippman at (703) 979-4904 or sam@lippmanconnects.com.