04 Jun 2019
2019 ECEF Recap: State of the Industry, Keynotes and Session Insights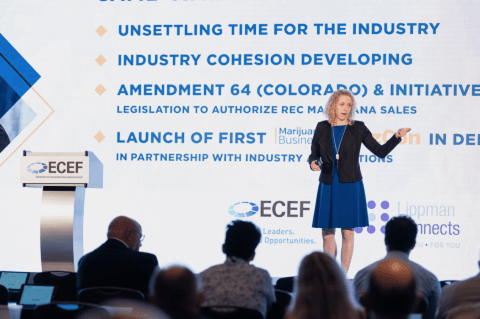 The 2019 Exhibition and Convention Executives Forum drew 220 association and for-profit industry leaders to Washington, D.C. last week. This year's event centered around one major theme: the increasing need for event organizers to seek out new ways to convert growth strategies into reality.
After a lively cocktail reception the night before, ECEF kicked off early on May 29 with Sam Lippman, president of Lippman Connects, presenting a report titled "5 Key Data Points in 5 Minutes: 2019 ECEF Pulse Summary" based on survey questions sent out before the event.
"We are in a level period," Lippman said of the overall trade show landscape, according to survey results.
Even though overall trade show attendance has experienced an uptick, according to the survey, 45 percent of respondents are investing even more in attendee acquisition to ensure they keep coming to their shows, Lippman said.
The morning keynote featured Cassandra Farrington, CEO and co-founder of Marijuana Business Daily, tracing the meteoric rise of the publication and associated trade show that aligned with the spread of legalization for medical and recreational marijuana in the U.S. and Canada.
"We do MJBizCon as an offshoot of everything we do," Farrington said in her session aptly titled, "Navigating Treacherous Waters."
Insightful Sessions
The day continued with sessions led by industry leaders. Kai Hattendorf, CEO of UFI, the Global Association of the Exhibition Industry, gave an overview of the worldwide industry, pointing out that "the economic center of the planet had switched back to the East and somewhat north."
He added that, "if we do our jobs right," the trade show industry should grow 3.5 to 4 percent in line with the global economy in the near future.
In Dina Cappiello's session, "Storytelling in a Fake News World," the former journalist and current Edelman executive said that 81 percent of people surveyed felt that CEOs of companies should take the lead on change, instead of waiting for the government to impose it.
As an example, she pointed to the recent case of Patagonia CEO Rose Marcario donating the tax savings the company received to 'open space' initiatives.
Smart Panels
Next up, Informa Markets' Rick McConnell moderated a panel, "Brave New World in the Events Business," which focused on threats to the trade show industry.
According to a word cloud audience poll taken in the room, the concept of time (i.e., not enough of it) was the most mentioned current threat to the industry. The audience also predicted that technology would be the biggest change in the industry over the next five years.
Panelist Linda Gray Martin, director and global operations chief for RSA Conferences, pointed to personalized and curated data as major change drivers over that same period.
Messe Frankfurt's Dennis Smith said the biggest changes would come on the showfloor itself. "Gone are the days when you set up your pipe and drape, put out your brochures and your little 'spongy' things and wait for someone to come by," he added.
The next panel focused on for-profit company Winsight partnering with the National Restaurant Association Show in a unique model.
The deal was several years in the making, and Mary Pat Heftman, who oversees the 100-year-old show and was on the panel moderated by Winsight Vice Chairman Galen Poss, said it enabled them to now have a much faster "speed to market."
Winsight CEO Mike Wood and NRA President and CEO Dawn Sweeney, who were also on the panel, talked about how the overall deal came about and the 45-year partnership that was put in place.
The first show under the new ownership ran in late May, and Heftman said, "It exceeded our expectations."
Last, but not least, the final keynote was led by Consumer Technology Association's Gary Shapiro, who talked about keeping a mega-show relevant and finding and keeping a "ninja staff."
On hiring new talent, he advised, "Don't interview people who look and act like you."
Shapiro added about technology overall, "I think too much technology is a problem in our society. We are losing sense of connection…we need to bring human touch back to the industry."
ECEF wrapped up with a relaxed TechDemo event, which TSNN reported on last month, in combination with networking at the closing reception.
To access videos of presentations at ECEF, go here.