02 Jun 2017
ECEF 2017 Draws 210 Industry Execs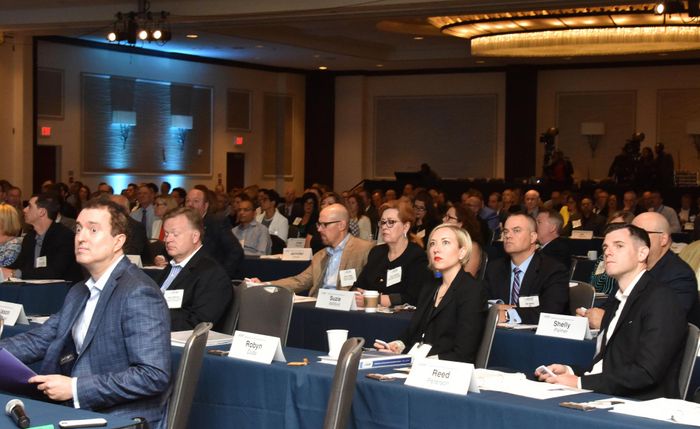 Washington, DC – More than 200 industry executives gathered at the 16th annual Exhibition & Convention Executives Forum (ECEF) to discuss the key issues facing the trade show industry. Held May 30-31 at the JW Marriott, this year's event attracted 210 industry professionals, ten less than in 2016, according to Lippman Connects President Sam Lippman, whose company produces ECEF as well as the Attendee Acquisition Roundtable, Exhibit Sales Roundtable, Large Show Roundtable and Transform USA.
ECEF is one-day event for C-level executives at associations and independent organizers. "Every year, it's a pleasure to bring together really smart professionals to network and exchange success strategies," Lippman said. "It's really fun and productive."
At the opening keynote, UBM Americas CEO Scott Schulman discussed how the company is maximizing event value through extensions and global relationships. Before joining UBM in March 2016, Schulman served as President of Rodale Inc., and President of Corporate Market Groups for Dow Jones. He talked about how he has applying some of the same strategies he learned on the consumer side at Rodale and Dow Jones to UBM's b-to-b portfolio.
One of his key takeaways from that experience: Recognizing that meaningful brands, like the Wall Street Journal, Men's Health and Runner's World can expand beyond their core businesses to reach customers. "We used digital, events, video, licensing and different geographies to create new opportunities to connect our audiences with marketers," Schulman said.
At UBM, he's focused on organic growth, which is not easy given the slow growth of the U.S. economy and declining economies in Brazil, where the company has a big presence. UBM is leveraging its international scale — with 3,500+ employees and 70 offices in more than 20 countries — to geo-adapt some of its flagship brands.
For example, in May UBM debuted the North American launch of CPhI in Philadelphia. The global pharmaceutical event is held in Jakarta, Frankfurt, Shanghai, Seoul, Abu Dhabi, Tokyo and Bombay. "It's a great example of combining our global resources and sales capacity in places with the on-the-ground team in North America," said Schulman.
"When I had the opportunity to join the events business, I recognized that nothing is more powerful from a marketing standpoint than live face-to-face events," said Schulman. "I believe the growth of digital makes face-to-face interactions and events more important than ever." (For more on UBM's growth strategies, see Bigger & Better: CEOs Share Growth Strategies for 2017 in the March 2017 issue of TSE. Include link if the issue is posted.)
Session Highlights
The event offered sessions by industry professionals and outside experts. Trade Show Executive has identified several key takeaways:
Use all the experience levers. "We are trying to raise the bar internally to make our events more exciting, fun and must-attend," Schulman said. "Everything is on the table, and we have a team working on new models using sight, sound, smell, lighting, food, networking and booth packages. We want to create memorable moments for attendees to share." For example, a Hamilton star was at the Coterie fashion show, Katy Perry launched her new shoe line at Platform, and Justin Timberlake was at the Licensing Expo.
Have a customer strategy, not a digital strategy. Live consumer events, like Major League Baseball games, are integrating digital into the event experience, said Koley Corte, Senior Vice President and Head of Digital, Reed Exhibitions in The Americas. For example, the mobile app MLB At Bat allows fans to purchase tickets, play games, earn prizes, get additional player information and even place food orders. "More and more decisions are being made without talking to an individual," she said. "Self-guided interactions represent a significant portion of buying interactions. Digital enables the majority of self-guided interactions." In 2017, 68% of b-to-b buyers prefer to gather information online instead of talking to a sales rep.
Finding success with geofencing. Geofencing is the use of GPS or RFID technology to create a virtual geographic boundary, enabling software to trigger a response when a mobile device enters or leaves a particular area. The Biotechnology Innovation Organization (BIO) Show targeted attendees within a 10-mile radius of a competing event with a registration incentive that included a $200 discount. "We found 200 new attendees through geofencing," said Erin Lee, Managing Director, Marketing, Biotechnology Innovation Organization (BIO). "We achieved $300,000 in revenue from geofencing and met our registration goals."
Beefing up security budgets. "We spent an additional $225,000 on security last year," said Terri Toennies, ANSA Productions Executive Vice President and General Manager for the L.A. Auto Show. For security, the show works with the L.A. Police Department (in uniform and undercover), K9 units, Executive Event Services, United Security, Empyrean Productions and the L.A. Convention Center Security. In 2016, the L.A. Auto Show allowed attendees to use only clear totes (similar to rules at NFL games). The security team uses 36 cameras inside and out as part of a 24/7 command center. In 2017, all 1,600 day-laborers will be required to register and go through bag checks before they enter the convention center. "We now collect exhibitor fees internally, and we were able to get $300,000 to pay for new costs," said Toennies.
Networking opportunities at the event included an opening reception, breakfast, lunch and breaks. Videos of the sessions and all other ECEF 2017 presentations will be available for download free of charge at lippmanconnects.com/resources. Also available are presentation slides, on-site polling results, research and reports. Event photos are available at https://www.flickr.com/photos/slippman/albums/72157681520567143.
ECEF 2018 will be held May 30 at the JW Marriott in Washington, DC.
Reach Sam at (703) 979-4904 or sam@lippmanconnects.com